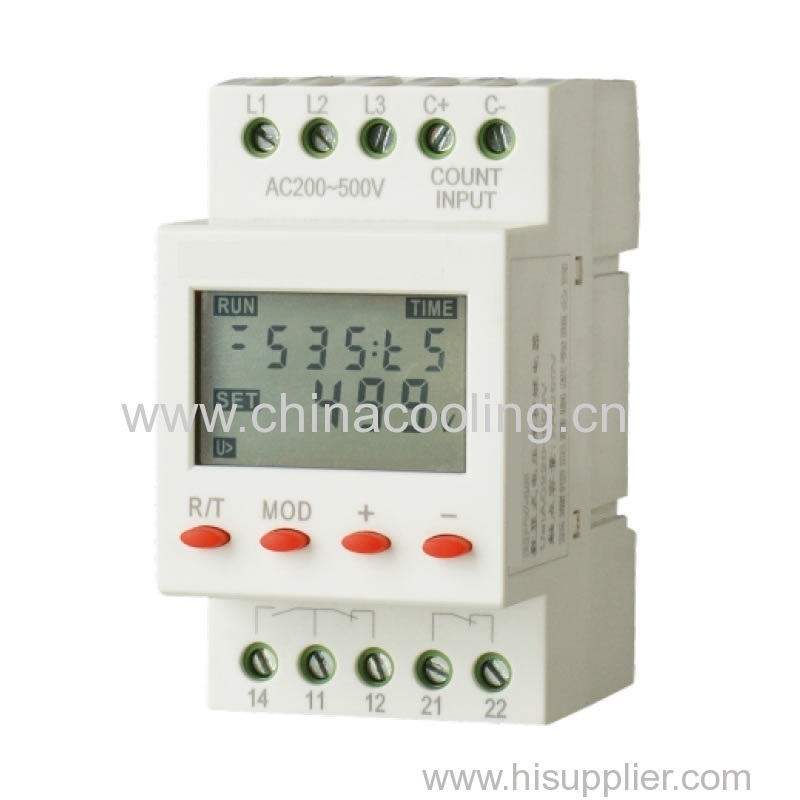 voltage control relay Otomatik sifirlama voltaji koruyucusu
Min. Order:
500 Piece/Pieces
Payment Terms:
Paypal, L/C, T/T, WU, Money Gram
Place of Origin:
Zhejiang, China (Mainland)
Means of Transport:
Ocean, Air, Land
Production Capacity:
100000pcs/week
Packing:
carton box packing

Product Description
Related Products
Related Links
Voltage Control Relay

1. Applications

Used in air conditioning units, elevator machine room, pumps, fans and other motor control applications, as protection of over-voltage, under-voltage, phase loss, phase sequence, 3-phase imbalance. When the power supply is abnormal, stop supply to protect the equipment.

2. Features

Built-in microprocessors, true RMS measurement, voltage measurement accuracy ≤ 1%. 50/60Hz universal, knob setting. LCD displays voltage and fault information, protection can be turned on or off. Check 3-phase voltage value by knob, with counting and timing function. Record number and time of using devices. DIN rail mounting.

3. Technical parameters

Related control supply voltage: 380V~400~415V AC 50/60Hz

Working voltage range: AC200V~500V

Phase failure and phase sequence: ≤0.5s

Delay error: ±10% +0.1s

Measurement accuracy: 1% RMS

Data storage time: 10 years

Maximum counting capacity: 999999

Maximum timing capacity: 9999hours 59mins.

Maximum count frequency: 5Hz

Accumulated timing error: ≤0.001%

Count input signal: AC/DC 20V~450V

Rated insulation voltage: 415V

Contact configuration capacity(A): 1 C/O: 10A

Utilisation category: AC-15

Contact capacity: Ue/le: 240V/1.5A, 415V/0.95A

Electrical durability: 100,000

Mechanical durability: 1000,000

Degrees of protection: IP20

Pollution degree: III

Short circuit protector type: NT00-6A

Altitude: ≤ 2000m

Permissible relative humidity: ≤ 50% (40℃) No condensation

Installation: Screw mounting or DIN rail mounting

4. Function Diagram


5. Dimension

Customization is acceptable, please contact us. Thanks!