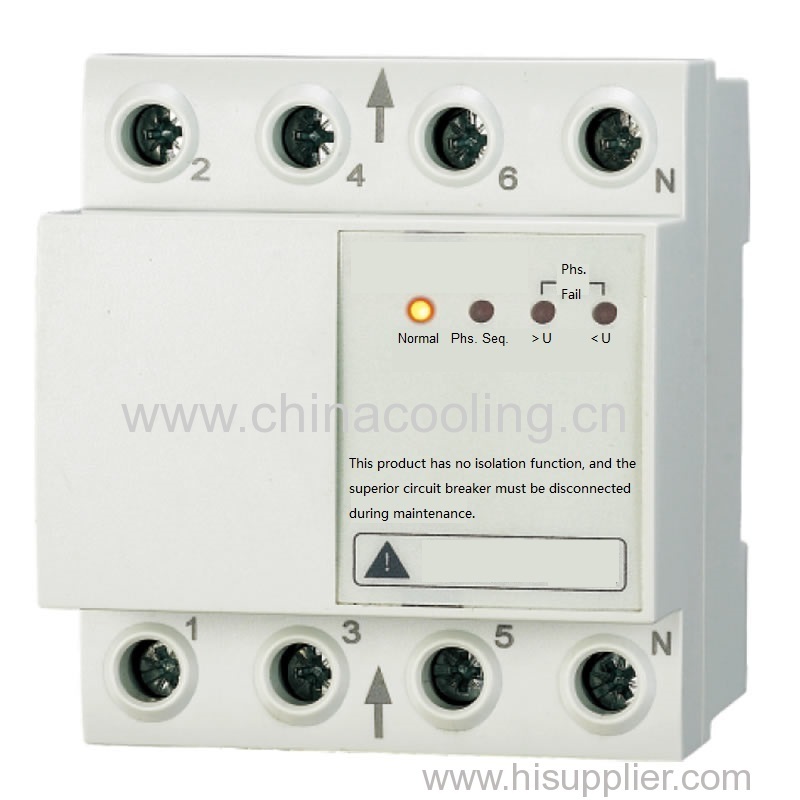 Automatic Reset Voltage Protector used in house and villa three-phase four-wire 220v electrical system
Product Description
Related Products
Related Links
Automatic Reset Voltage Protector




1. Applications

Used in house and villa three-phase four-wire 220v electrical system, when the power voltage abnormally too high or too low, or zero line phase loss, cut off the power to protect electrical equipment from damage.

2. Features

LED display control status. Voltage measurement accuracy ≤ 1%. 50/60Hz universal. DIN rail mounting.With phase loss and phase sequence protection.

3. Technical parameters


Related control supply voltage: AC220V 50/60Hz

Contact configuration capacity(A): 40A,50A, 63A(80A)

Over-voltage action value: 265V

Over-voltage reset value: 257V

Under-voltage action value: 175V

Under-voltage reset value: 180V

Action delay: 0.1s

Power on delay: 2s

Reset delay: 1s

Voltage measurement error: ≤1%

Delay error: 10%+0.1s

Rated insulation voltage: 415V

Electrical durability: 100,000


Mechanical durability: 1000,000

Degrees of protection: IP20

Pollution degree: III

Altitude: ≤ 2000m

Permissible relative humidity: ≤ 50% (40℃) No condensation


Installation: width 35mm(IEC/EN60715)

4. Function diagram

5. Wiring diagram

6. Typical applications

7. Dimension




Customization is acceptable, please contact us. Thanks!