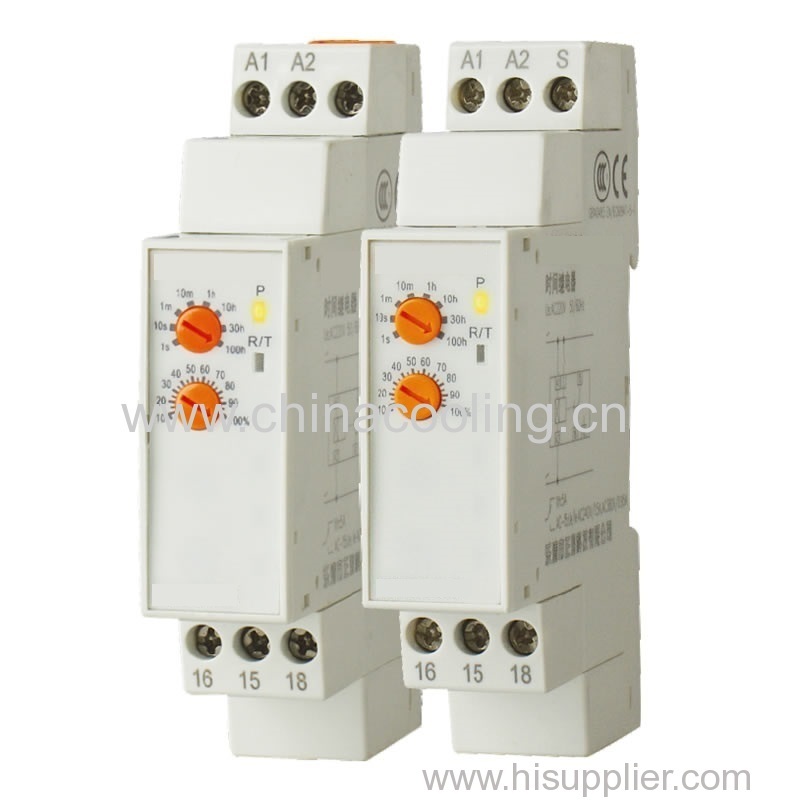 time relay used in control panel cabinets and other electrical control circuit
Min. Order:
500 Piece/Pieces
Payment Terms:
Paypal, L/C, T/T, WU, Money Gram
Place of Origin:
Zhejiang, China (Mainland)
Means of Transport:
Ocean, Air, Land
Production Capacity:
100000pcs/week
Packing:
carton box packing

Product Description
Related Products
Related Links
Time relay

1. Applications

Used in control panel , cabinets and other electrical control circuit, according to the scheduled time automatically switch on or off the circuit.

2. Features

Built-in microcontrollers, 0.1s ~100h wide delay range, repeat accuracy ≤0.2%. Knob setting, LED indicator shows working status. Variety of optional rated voltage. DIN rail mounting.

3. Technical parameters

Related control supply voltage: DC12V, DC24V, AC/DC 24V~240V, AC110V, AC220V, AC380V 50/60Hz

Delay range: 0.1s~100h multi range adjustment

Setting accuracy: ±10% ±100ms

Repeat accuracy: ±0.2% ±50ms

Repeat power-on interval: ≥0.2s

Rated insulation voltage: 415V

Contact configuration capacity(A): 1 C/O:8A, 2 C/O 1C/O+1 instant C/O: 5A

Utilisation category: AC-15

Contact capacity: Ue/le AC 240V/1.5A, 380V/0.95A

Electrical durability: 100,000


Mechanical durability: 1000,000

Degrees of protection: IP20

Pollution degree: III

Short circuit protector type: NT00-6A

Power consumption: AC≤1W, DC≤0.5W

Altitude: ≤ 2000m

Permissible relative humidity: ≤ 50% (40℃) No condensation


Installation: Screw mounting or DIN rail mounting

4. Function diagram

5. Wiring diagram

6. Dimension

Customization is acceptable, please contact us. Thanks!