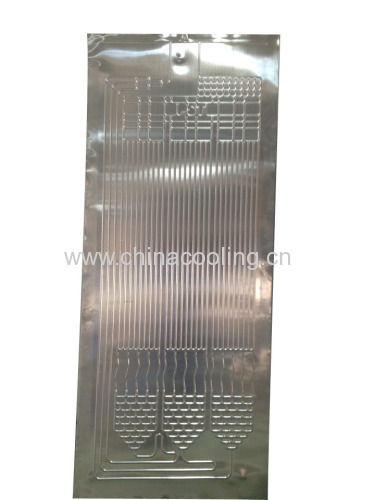 thermodynamic absorber manufacturer in China size 2000X800 double side inflated panel
85.0 USD
Min. Order:
100 Piece/Pieces
Payment Terms:
L/C, T/T, WU
Place of Origin:
Zhejiang, China (Mainland)
Means of Transport:
Ocean, Air, Land
Packing:
non-fumigation wooden...
material:
aluminum sheet 1060
inflated:
double side inflated/two sides inflating
application:
swiming pool or solar water heating

Product Description
Related Products
Related Links
Solar collector panel/plate/Thermodynamic panel(double side inflated)
Material: Aluminum 1060/1050

Dimension: 1700X800 2000X800 2000X1000 1700X500 1700X900 1700X990

Thickness range: 1.5mm-3mm

Black painting
Punching
Bending

Key process:Prepare the material, Cleaning, roughing surface, Printing, Riveting, Rolling, Annealing, Blow up, Punching, Folding and shaping, Assembly welding, Leakage Test, Cleaning and drying, Coating, Curing, Inspection, Packing

Technical standard: 1) Size: width 1100mm (max), length 2200mm (max)
2) Can produce according to the drawing or sample supplied by clients, also can help the clients design and produce different models of roll bond evaporator.


PS: If you don't need to paint, the lead time will be earlier!




Thermodynamic panels can absorb ambient heat from the air and rain as well as the sun. They use refrigerant gas which works like a fridge in reverse to generate hot water for your home in all conditions.




How do thermodynamic panels work?

A thermodynamic panel is fitted to the outside of the property, usually on a south facing wall or roof. Refrigerant enters the panel at -22°C and is heated by the air around the panel until it becomes a gas. This heat can come from the air, sun or rain as long as the outside temperature is above -22°C. The gas then passes through a compressor which increases the temperature. The heat is released into the water tank through a heat exchange coil to a maximum temperature of 55°C. The cooler refrigerant then circulates back to the panel to be warmed again. The system uses a small amount of electricity to run but mostly relies on the ambient heat outside. For every unit of electricity used, the system will generate 3 - 6 units of heat for your home---FXT.

What are the benefits of thermodynamics?

A thermodynamic panel is a great alternative to solar panels they don't need light to generate heat for your domestic hot water. Thermodynamic panels---FXT:




Don't need sunlight to generate heat, they work day or night and in all conditions including rain or snow.

Will provide all hot water requirements up to 55°C

Will significantly reduce CO2 emissions, making your home greener

Are smaller and more discreet than solar panels and do not need to be roof mounted

Require very little installation time, they can be installed in just a few hours.