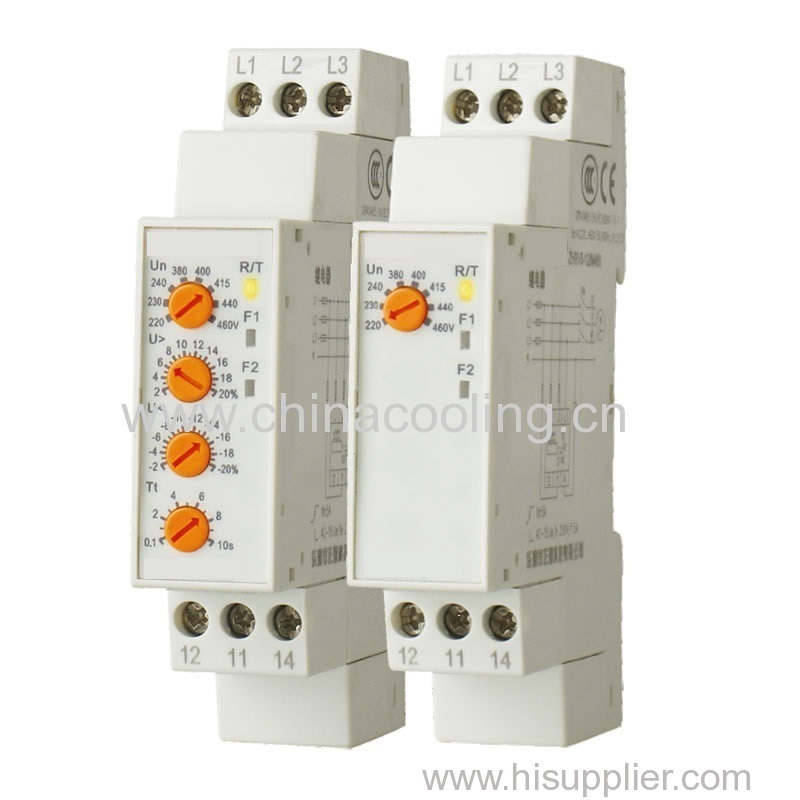 Voltage control relay geganti voltan China
Min. Order:
500 Piece/Pieces
Payment Terms:
Paypal, L/C, T/T, WU, Money Gram
Place of Origin:
Zhejiang, China (Mainland)
Means of Transport:
Ocean, Air, Land
Production Capacity:
100000pcs/week
Packing:
carton box packing

Product Description
Related Products
Related Links
Voltage Control Relay

1. Applications

Used in air conditioning units, elevator machine room, pumps, fans and other motor control applications, as protection of over-voltage, under-voltage, phase loss, phase sequence, 3-phase imbalance. When the power supply is abnormal, stop supply to protect the equipment.

2. Features

Built-in microprocessors, true RMS measurement, voltage measurement accuracy ≤ 1%. 50/60Hz universal, knob setting. LED indicator shows working status. Rated voltage three-phase three-wire 220V~460V universal. DIN-rail mounting.

3. Technical parameters


Related control supply voltage: AC 3x220v→3x460V(P-P)50/60Hz

Working voltage range: AC187V~529V

Voltage threshold range: 2%~20% of rated working voltage

Voltage fixed hysteresis rate: 2% of rated working voltage

Unbalance threshold range: 5%~15%

Action delay range: 0.1s~10s

Phase failure and phase sequence: <0.5s

Voltage measurement error: ≤1% (Entire setting range)

Delay error: ±10% +0.1s

Knob setting accuracy: 1% Scale value

Rated insulation voltage: 460V

Contact configuration capacity(A): 1 C/O: 8A

Utilisation category: AC-15

Contact capacity: Ue/le: 250V/1.5A

Electrical durability: 100,000

Mechanical durability: 1000,000

Degrees of protection: IP20

Pollution degree: III

Short circuit protector type: NT00-6A

Altitude: ≤ 2000m

Permissible relative humidity: ≤ 50% (40℃) No condensation

Installation: (width)35mm(IEC/EN60715)

4. Function diagram

5. Wiring diagram

6. Dimension

Customization is acceptable, please contact us. Thanks!