Spiral Condenser freezer plate condenser manufacurer
Product Description
Payment & Shipping Terms
Supply Capacity
Payment Terms:
L/C, T/T
Production Capacity:
5000000pcs per month
Min. Order:
1000 Piece/Pieces
Packing:
Carton/Pallet/Wooden...
Means of Transport:
Ocean, Air, Land
Delivery Date:
20days after received...
Specifications:
1) Raw material:
a) Rolling welded steel tube: 4.76 ~ 6.35 x 0.71
b) Bracket: steel plate SPCC thickness 0.6 ~ 2.0
c) Base mounting plate: SPCC thickness 0.6 ~ 0.8
2) Technical standards: can produce according to clients' drawing or
samples
3) Performance:
a) Surface with electrophoresis coating to prevent the corrosion
b) Inner cleanness can meet the requirement of R134a and CFC cooling system
c) Can satisfy the cooling capability requirements
Structure:
Steel tube welded with the steel plate
R134a cooling system tube inside standard:
1) Residual moisture: ≤20mg/m²
2) Residual dusty: ≤30mg/m²
3) Residual mineral oil: ≤7mg/m²
4) Residual chlorine: ≤3mg/m²
5) Sealing density: ≥1.65MPa
Specification of E-coating:
1) Coating thickness:
a) Thickness of anodic electrophoresis coating ≥12μm
b) Thickness of cathodic electrophoresis coating ≥20μm
2) Hardness of coating ≥2H
3) Impact of coating: 50cm.kg/cm impact, no crack
4) Adhesion of coating: ≥2 grade
5) Flexibility of coating: around R=3D bend 180 degrees, no crack or no fall off
6) Corrosion resistant (salt spray GB2423)
a) Anodic electrophoresis coating ≥24h
b) Cathodic electrophoresis coating ≥96h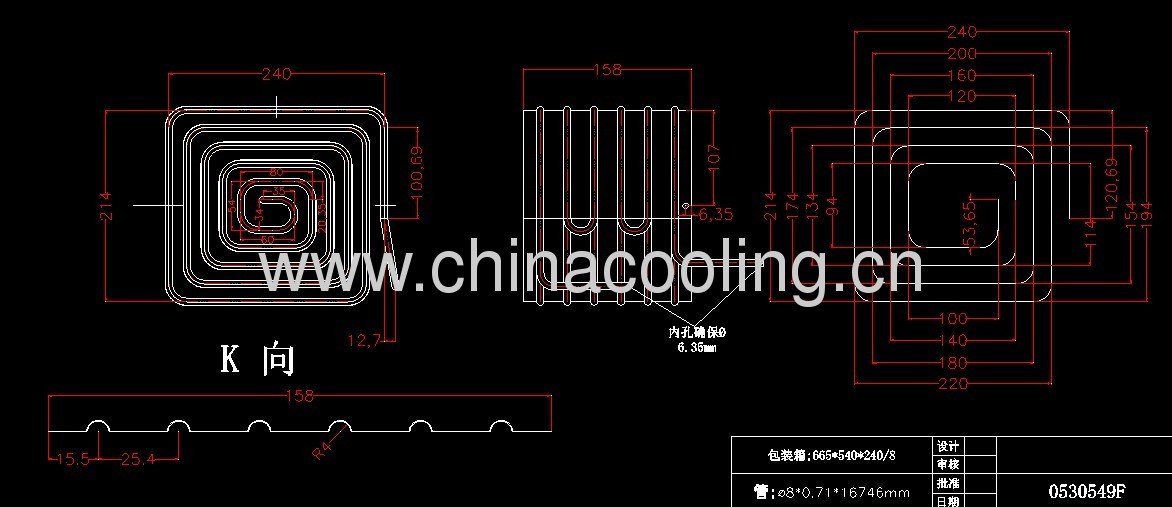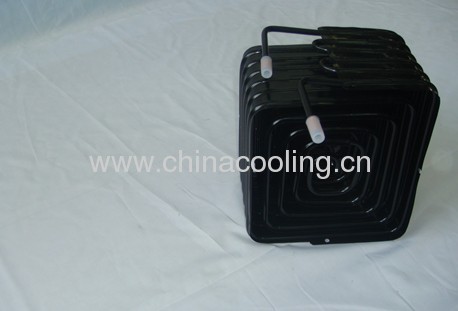 We send this item to Canada!
Please send us your drawing or sample for our quotation!
Category: Spiral Condenser
Related Category: Shutter condenser condenser for refrigerator and freezer Fin condenser Condenser for water dispenser Showcase condenser